I am not ashamed to say that I can remember when Price Charles married the then Lady Diana Spencer. We had a party and everyone had to bring a plate. My favourite was the trifle with a Union Jack painstakingly piped on the top. It was scrumptious.
I watched the wedding of Prince William and Kate Middleton too. I clearly remember the jolly hockey sticks commentator screeching "it's a McQueen!" "it's a Mc Queen!" as Katherine emerged from her hotel bunker to greet the waiting press.
I am going to watch this weekend's royal nuptials too. Not because I think Harry and Meghan getting married will bring world peace, Brexit calm or change the course of history, but because I like a bit a of escapist pageantry AND it gives me an excuse to have a few cheeky Elderflower Cocktails with my brother.
Of the thousands of wedding motifs, touches and flourishes real and imagined that have been examined in minute detail, it is the Elderflower and Lemon Cake that has appealed to me most. Apparently it's a big break with tradition to have such a cake. Piers Morgan – the arbiter of everything British/Royal/Proper/Everything – certainly thinks so, saying: "Prince Harry and Meghan Markle are creating scandal and sensation by going their own way. To me, when you get married, you don't muck around. you stick to tradition and have a fruit cake."
Their scandalous choice has put Elderflower front and centre – well certainly until we see the dress and Princess Charlotte and who will walk Meghan down the aisle.
Elderflower hails from the genus of flowering plants Sambucus in the family Adoxaceae. It is the starry white flower of the Elderberry – a vigorous soft leafed deciduous shrub that can grow to a height of 3-4 metres. Excitingly, the Elderberry plant is quite adaptable to Australian conditions and will grow in most soil types even wet soil! The flower has a delicate aroma and flavour, the berry has a richer flavour, works well in desserts and is great paired with meat.
It was Hippocates who opined "Nature itself is the best physician"  and so would have been most interested in the how the Elderflower can be used for a range of medicinal purposes.  According to WebMD it weaves its magic in the treatment of swollen sinuses, colds, influenza, swine flu, bronchitis, diabetes and constipation – though after a solid diet of the Royal Wedding chances are you will need something to address the opposite ailment. it's also used as a diuretic to increase urine production, as a diaphoretic to increase sweating and to stop bleeding. What a clever little flower. But note I am a gift wrapper not a doctor, so please don't rely o this for medical advice.
The elderflower can most certainly be used in a range of culinary delights. What about this Lemon and Elderflower beauty from HGTV:
Carol Wilson from BBC Good Food provides recipes for a cornucopia of Elderflower delights including Gooseberry, Elderflower and Sauvignon Sorbet, Chicken Garden Salad with Elderflower Dressing, Gooseberry and Elderflower Yoghurt Ice, homemade Elderflower Cordial and Elderflower Crunch Cake. MMMMM
Elderflower has also gained quite the reputation as a genteel liqueur: St Gemain. Truly – the makers are serious about their product and engage in a race against time to get it harvested and crushed. Of their flower gatherers they say "Descending the hillside, these diligent flower-gatherers carefully usher the umbrells of starry white flowers back to the village, often by bicycle. In just a few short weeks, all of the elderflowers that will become St‑Germain for that year will be harvested. And then… Fini. That is why each bottle of St‑Germain is individually numbered to reflect the year in which the flowers were picked."
And then there's the latest cocktail sensation – the Markle Sparkle which goes long on the Elderflower. Different versions are popping up all over the place but my favourite is from Drake and Morgan Restaurants. Pink deliciousness……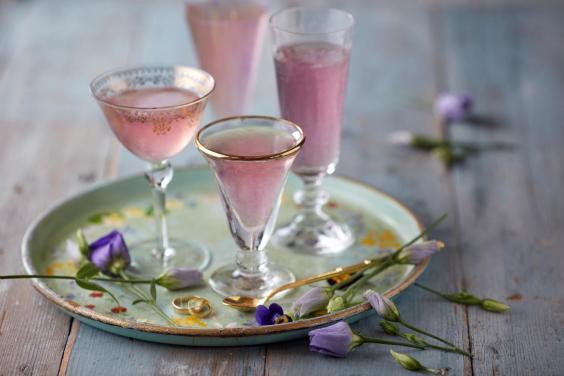 With all this Elderflower action, it is no wonder Harry and Meghan jumped on the Elderflower bandwagon. The had other options of course. They could have enlisted the help of Lara Mann who used 300 eggs, 15 kg of flour, 15kg butter and 15 kg sugar to create a life size Harry and Megan Cake. She deployed over 10 kg of buttercream to sandwich the layers together. Even the royal eyes, made frmom poured sigar, are edible. Lara has also made life size cakes of Prince George, Jack Sparrow, herelf and her hubby on their wedding day and a a life size Land Rover. So she's got form.
But Harry and Meghan stuck with Elderflower and so will I. I chose the Elderflower for my Royal Wedding Gift Wraps  – yes I am being asked to wrap for Royal Wedding Parties – and yes I love it. I love the pure whites and botanical greens of the paper and I think it does justice to the description of the Elderflower by Baxter Gardens of  "a plant that displays a spectacular trifecta of sheer wonderfulness:  Delicate yet sturdy flowers that turn into lovely and, in many cases, edible fruit.  Color that shines without ostentation.  A soft texture that belies its true strength. Oh, you may think that this perfect plant doesn't exist, but it does my gardening friends, and it goes by the name Sambucus.  And did I mention they are deer resistant?"  You had me at deer resistant.
I thought I preferred the version with pristine white background but when all was wrapped and done I am bonding more with the lovely full green option matched with a bit of Markle Sparkle and lovely blush satin ribbon.
They talk about Meghan's star power but I think this weekend in Windsor is about an all together different starry star showing the undoubted power of Elderflower.