We've all been there….Christmas Day fast approaching, gifts still to wrap, shops well and truly closed and alas…you run out of wrapping paper. What do you do? Or, to be more precise, what do you do that looks rather fabulous? After much trial and a great deal of error, I am pleased to announce my top five last minute Christmas wraps, created with materials most of us would find at home.
First up, monochrome magic. As I have shared, I am going with a black and white themed Christmas. The great thing about black and white is that it can work in with other most colour palettes, practically looking as if it was mean to be there in the first place. My favourite trick is to use blank photocopy paper straight from the printer and drawn grid lines on with a medium point black sharpie. To keep the grid lines consistent, I used a piece of wood that I found in the linen press – it was a great width though it does look suspiciously like a part of a flat pack furniture piece and now I am obsessed with locating the piece of furniture that is a strut short. You could of course use other sharpie colours. I joined the pieces of paper together with double sided tape and  covered the join with twine and ribbon off cuts. Voila!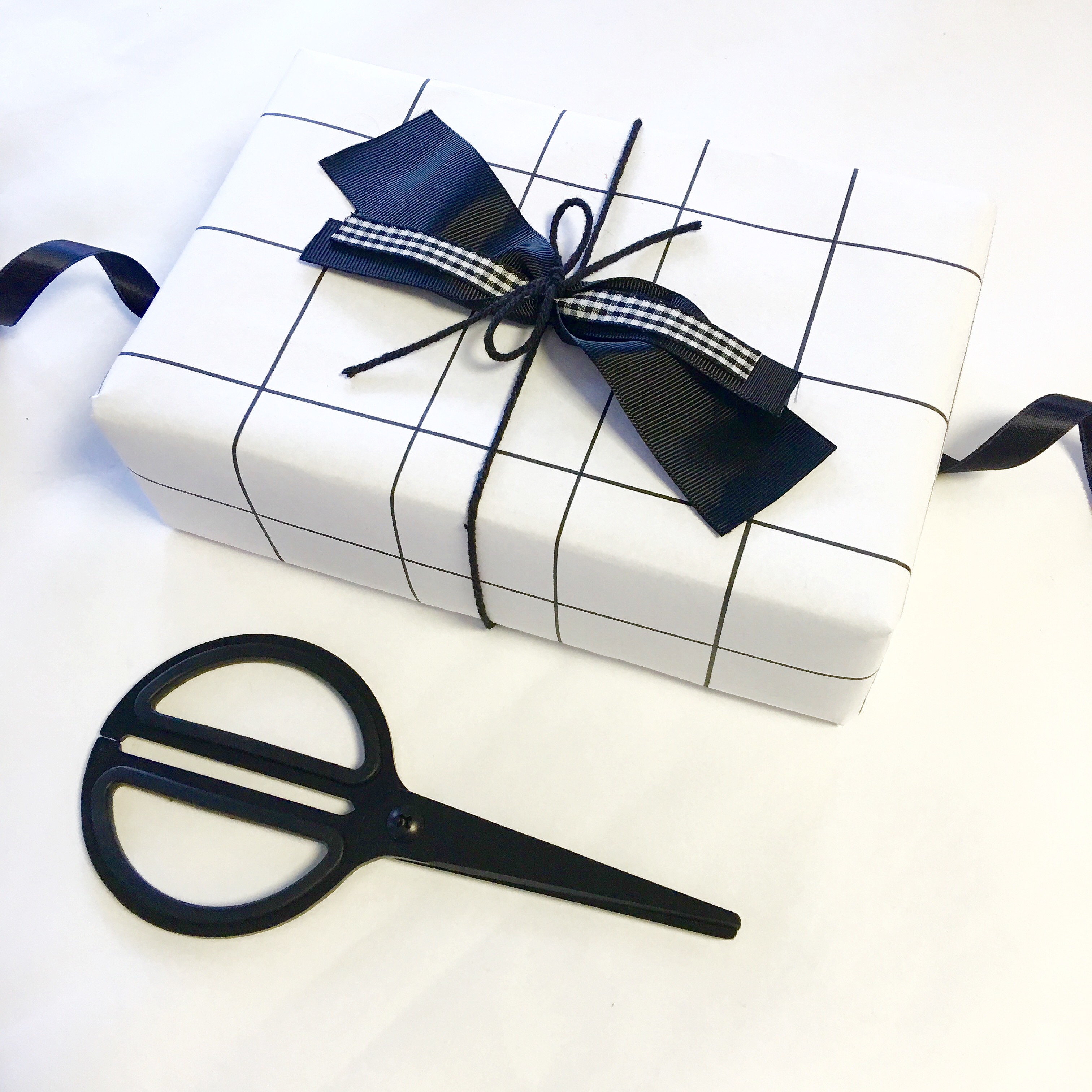 Then to lunch bag beauty. I took a brown paper lunch bag – but you could do this with any brown paper shopping bag – cut it and opened it out and then wrapped my little gift. I took care to position the gift so the seam/join of the bag was on the bottom side – because you don't want your seams showing. Add in some ribbon remnants way to small to tie a bow with and a few sprigs of mock orange from the garden and hey presto.
Next to non stick baking paper which looks a lot more interesting than plain photocopier paper. I love the translucent look of baking paper and think it makes a wonderful wrap. Doesn't stick terribly well (which of course is the whole point of non stick baking paper) so this one I had to tie. A piece of red twine and a quill of cinnamon from the cupboard that no one will miss from the eggnog and Bob's your uncle (who comes over every Christmas).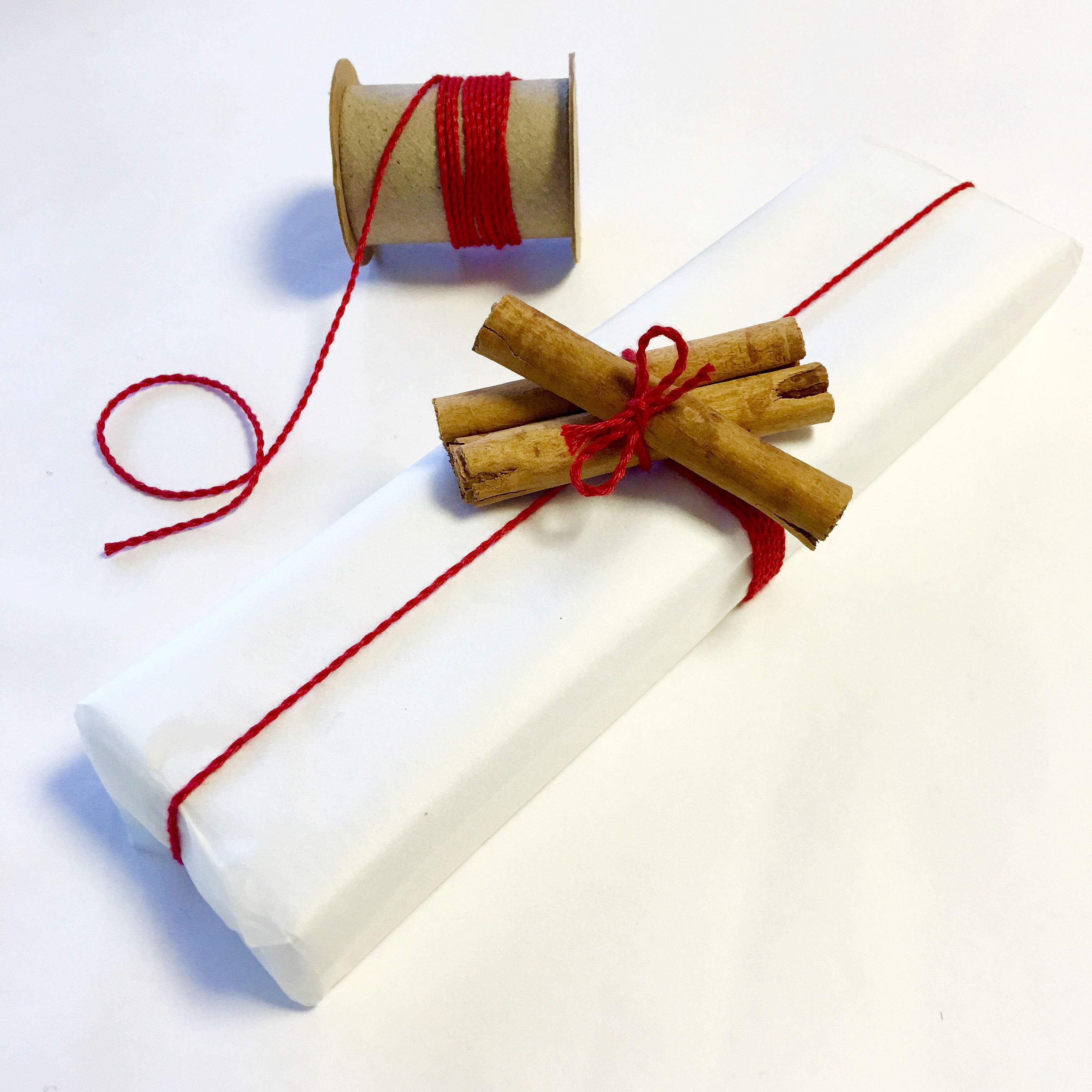 Magazines are next and it's no secret I find glossy magazines a rich source of wrapping paper – provided everyone has read the magazine or they are not magazine collectors (with apologies to my husband – who knew you wanted to keep every single copy of the Harvard Business Review in pristine condition?). My Christmas tree number is from the QANTAS in flight magazine but there are a myriad of other Christmas images out there at the moment – the sky is the limit.
Finally – why not a little Christmas Carol action – chances are you will be watching Carols by Candlelight anyway when your lack of sufficient wrapping paper becomes apparent to you. Wander over to the computer – search Christmas Carol sheet music and click on images – a smorgasbord of carolling carolness appears before your eyes. Print out a couple of pages and tape together or print out just one page and use it as a belli band. Options, options, so many carol options.
These are my top five staples, but nothing would thrill me more than to unearth some more hidden gems if you know of any.  Don't care the materials or the embellishments….my only requirement is that the end product looks fabulous. Even with our wrapping backs against the wall, the wrapped gift still has to have festive flourishes and finishes.