If there is one thing that I like nearly as much as gift wrapping, it is talking about gift wrapping with specialist gift wrappers. And so it was that I found myself on New York's Upper West Side talking all things wrapping with the lovely Melissa from Paper Source.
Melissa has gift wrapping cred. She started her career at Kate's Paperie – the New York institution that sadly closed its doors a few years ago – where fancy looks and precision pleating were all the go. That's where she learned the basics of gift wrapping that have held her in good stead. Now Melissa heads up the team at Paper Source on Columbus Avenue where she continues to wrap with thought and flair as well as pass her knowledge onto new members of the wrapping clan.
Melissa loves wrapping for its creativity and problem solving but more importantly for how amazing it makes the recipient feel. She gets a thrill when friends and family say "You can tell this gift is from Melissa!"
With so many questions for a professional wrapper, I knew I had to pace myself and purposely split my queries between those relating to technique (how you wrap) from those related to style (how the wrap incorporates paper and embellishments to suit the recipient and the occasion).
Techniques first. I asked Melissa what she considered to be the basics of gift wrapping. Her response was decisive. 1. Double sided tape always 2. Joining seam on the side of the base not right down the middle of the back of the gift 3. Edges that have been pinched to form a crisp right angle and 4. Bows, bows, bows – bows are her specialty because they elevate a gift and especially satin bows for this self confessed "satin snob".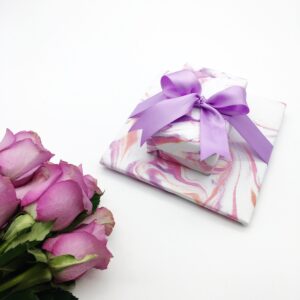 Melissa says people do find elements of gift wrapping a challenge. They can struggle with the ends of a gift, particularly if the base is a square. This requires extra time for measuring and folding. She says people also find adapting the size of the paper to a gift –  especially if they have limited paper – a challenge as there's a tendency to panic and worry it wont fit.
More than a few oddly shaped gifts have passed over Melissa's wrapping counter and she has some wise advice on this too. Firstly, accept that an unusually shared gift will never have the precision look of a box – a little self acceptance is essential. Secondly, focus on the front or top side of the gift and make it the most beautiful, keeping the folds, tucks, scrunches or "wonkiness" as she calls it for the underside. Thirdly a band of paper, pleated if you wish for extra zjoosh, can take the eye away from many a boo boo. A luscious bow will also grab all the attention and no one will ever notice the lumps and bumps. Finally she says, if the shape is altogether so odd that wrapping it would just look messy, there's nothing wrong with using a box or a bag wth lots of tissue paper and a bow.
Now to style. I asked Melissa about current gift wrapping trends and she identified three stand outs. My daughter always accuses me of the being a little too matchy matchy with my paper, colour and embellishment selection. But Melissa says that wrappers are becoming more chancey and are mixing and matching patterns and colours for a bold effect – florals with stripes, plaid with dots, shades of different colour working together in almost an ombré look.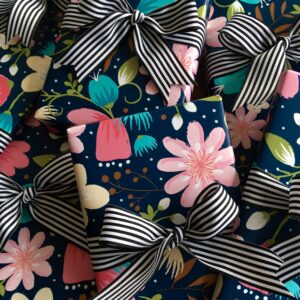 The second trend, and one that shows no sign of abating, is florals. Melissa notes there has been a move away from Grandma type florals to contemporary florals that use colour and style to perfection. The leader in this field was obviously Rifle Paper Company, but the field has broadened.  Many creatives are producing simply stunning flowers and botanicals, with succulents and tropical leaves remaining hugely popular.

The final, and perhaps most important trend, is the consumer led demand for environmentally friendly gift wrapping. That means papers, inks,  finishes and treatments that can be recycled. It also means a move towards using up or resusing what you have at home by adding in just a few new elements. If saving and cleverly reusing paper and ribbons is good enough for the Queen, its good enough for me. This is where Kraft paper comes into its own as it can be reused and restyled and look fabulous with just a band of feature paper.
Then we spoke about Christmas looks – saving the best to last I say. The traditional reds, greens and golds will always dominate at Christmas time but can be given a fresh feel with quirky ribbons and styling. But, says Melissa, Christmas is about unleashing the inner child with wonderful and whimsical looks. Paper Source incorporates an animal mascot every year and this year we will be seeing fun use of dinosaurs, koalas and pandas. Can't wait! We will also see pop colours on coral, mint turquoise and jade.
By this stage all I wanted to do was start wrapping Christmas presents. But before I could shop and wrap, I had to thank Melissa and her team for being so generous with their time and for demonstrating a real passion for their craft. In fact, I found every touch point at Paper Source, from my initial press enquiry through to everyone on the shop floor to be fabulous. I am not paid to say that. I received no payment from Paper Source and paid for the fabulous paper and ribbon I purchased there. Just goes to show that it pays in other ways to go straight to the source.